Just Under a Thousand of These Exist in MS67...
For as long as coins have been collected, condition has been a crucial factor. A coin's grade has a major impact on its desirability and value. Since the vast majority of coins were made for everyday use, they typically show signs of wear and tear. Even if a coin gets stashed away before entering circulation, it probably went through the gauntlet first. This might include being thrown around in a canvas bag, a few trips through an automatic counter, and so forth.

This was especially true for vintage coins. Modern American coins are handled by gentler and more sophisticated machines, but in the 19th century, the processes mentioned above were far rougher and more primitive.

This is why "super-grade" pre-1933 coins are so incredibly rare. As one numismatic authority phrased it, "they just shouldn't exist." Any coin that has managed to survive in superb condition has defied the odds. For example, one of our industry sources has handled some original Morgan dollar and $20 Double Eagle bags. These sealed canvas bags went directly from the U.S. Mint to long-term storage in a vault. Despite never entering circulation—and sitting untouched for decades—the coins inside typically graded just MS62 to MS64. Sometimes coins will be found in MS65 or MS66, but they are definitely the exception. Anything higher than that is an epic fluke.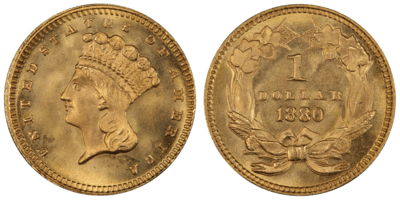 With this in mind, it's no surprise we haven't offered a coin over MS66 in over three years. They simply don't exist! However, we're excited to offer not just one but two MS67 coins for the first time in over half a decade. Despite their impossibly high grades, you'll be surprised to learn how reasonable these MS67 vintage coins truly are.

Today, we're offering a two-coin United States One Dollar Coin set in MS67. Each set consists of a Morgan silver dollar and a Type III gold dollar graded MS67 by NGC or PCGS. While both coins are relatively available in low grades, they became rarities in lofty grades. This is especially true for the Morgan dollar—as a large coin it's statistically unlikely to survive in MS67. NGC has graded a total of 3.3 million Morgans in all grades, but less than one half of one percent have qualified in MS67.

A greater percentage of gold dollars remain in MS67 condition, but they're rarer in absolute terms. As smaller coins, gold dollars were much less likely to acquire contact marks compared to hefty silver dollars. Furthermore, in the 1870s and 1880s, newly-minted gold dollars were sometimes put away as souvenirs. It's possible, if not quite likely, that the majority of super-grade gold dollars were used as gifts or keepsakes at some point. In terms of survival rates, NGC has certified over 72,000 gold dollars in all grades, but well under a thousand have been awarded the MS67 grade.

Based on these statistics, one might expect these coins to carry prohibitive price tags. For many years, this set would have easily traded for $10,000 or more per coin. We remember MS67 Morgans fetching $1,500 to $2,000 per coin in the early 1990s—at the same time MS67 Type III gold dollars cost a minimum of $9,000 to $10,000 each! Prices have fluctuated ever since, but currently they're at the most affordable levels we have ever witnessed. As of today, NGC's Price Guide values the MS67 Morgan at $950 per coin, while the gold dollar is pegged at $2,900 per coin. By comparison, in 2008, NGC valued the coins at $1,000 and $5,850 per coin, respectively!
While we can make an excellent argument for these coins based on their historic values, there's an equally compelling case based on their numismatic merits. We already mentioned how surprisingly scarce MS67 coins truly are, but we didn't touch on how impressive they are in the flesh. If you've never seen a Morgan dollar or gold dollar in MS67, they have an obvious "wow factor."

In addition to essentially flawless surfaces, a coin must have superb eye appeal. This means powerful luster, a razor-sharp strike, attractive color, and no derogatory features whatsoever. Anything larger than a miniscule flaw will demote a coin to MS66 or worse. There's a reason so few coins qualify as MS67—the standards are strict!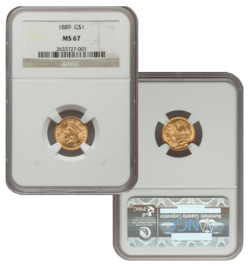 Today's Offer
We have exactly six (6) of these two-coin silver Morgan and gold dollar sets in MS67. While we wish we could offer more of these coins, after months of scanning the market, this is all we could find. But as an added bonus, we're offering FREE shipping on all purchases of these sets! Due to the combination of extreme rarity and limited supply, this Spotlight offer may set a new record for the fastest sellout.

Moreover, given this is the first MS67 coin we've offered in years, we expect tremendous interest. If you are interested in adding a super-grade set to your collection, please be sure to pounce on this quickly by calling us at 800-831-0007 or emailing us.

The two coin Silver Morgan Dollar and Gold Dollar Sets in MS67 are just $3,899 each.

Call us at 800-831-0007, or email infoasi@assetstrategies.com.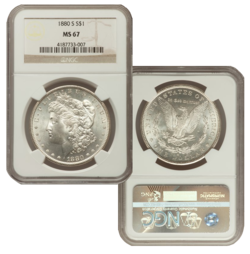 *Prices subject to change based on market fluctuation and product availability. Prices reflected are for cash, check, or bank wire. Free shipping, handling, and insurance are available for all quantities ordered. Grading service selection is random and depends on availability. Offer expires Friday, September 3, 2021, or while supplies last.