First Issue Denver Eagles Here Today, Gone Tomorrow
First Year of Issue coins hold a special place among collectors. It's no surprise that some of the most famous and celebrated coins in American numismatics hold this distinction. The list goes on and on, but some well-known examples that come to mind include the 1793 Chain Cent, 1794 Silver Dollar, 1838-O Half Dollar, 1854-S $5 Half Eagle, and 1907 Ultra High Relief.

What do all of these have in common? First, they represented the first coins of a given denomination, mintmark, or design. Secondly, they often command six or seven figures at auction!

Today we're excited to offer a small but intriguing group of First Year of Issue coins. The Denver Mint opened its doors in 1906 and, as such, D-mint gold coins from that year are coveted items. After a significant amount of time and effort, we've assembled a small quantity of 1906-D gold sets. Unlike the examples we mentioned earlier, these First Year of Issue coins are remarkably affordable. Not only do these represent tremendous value, but they offer a deep and fascinating historical backstory.

Our goal was to gather as many of these 1906-D gold coins as we could, but sometimes coins of this rarity just don't exist in quantity. After months of searching, we finally put together a small number of 2pc and 3pc sets.

Admittedly, this Spotlight offering is much smaller than most, but we would rather showcase a small number of special items versus a large amount of "generic" material. We think you will agree that these are some of the most intriguing U.S. gold coins we've offered in several years.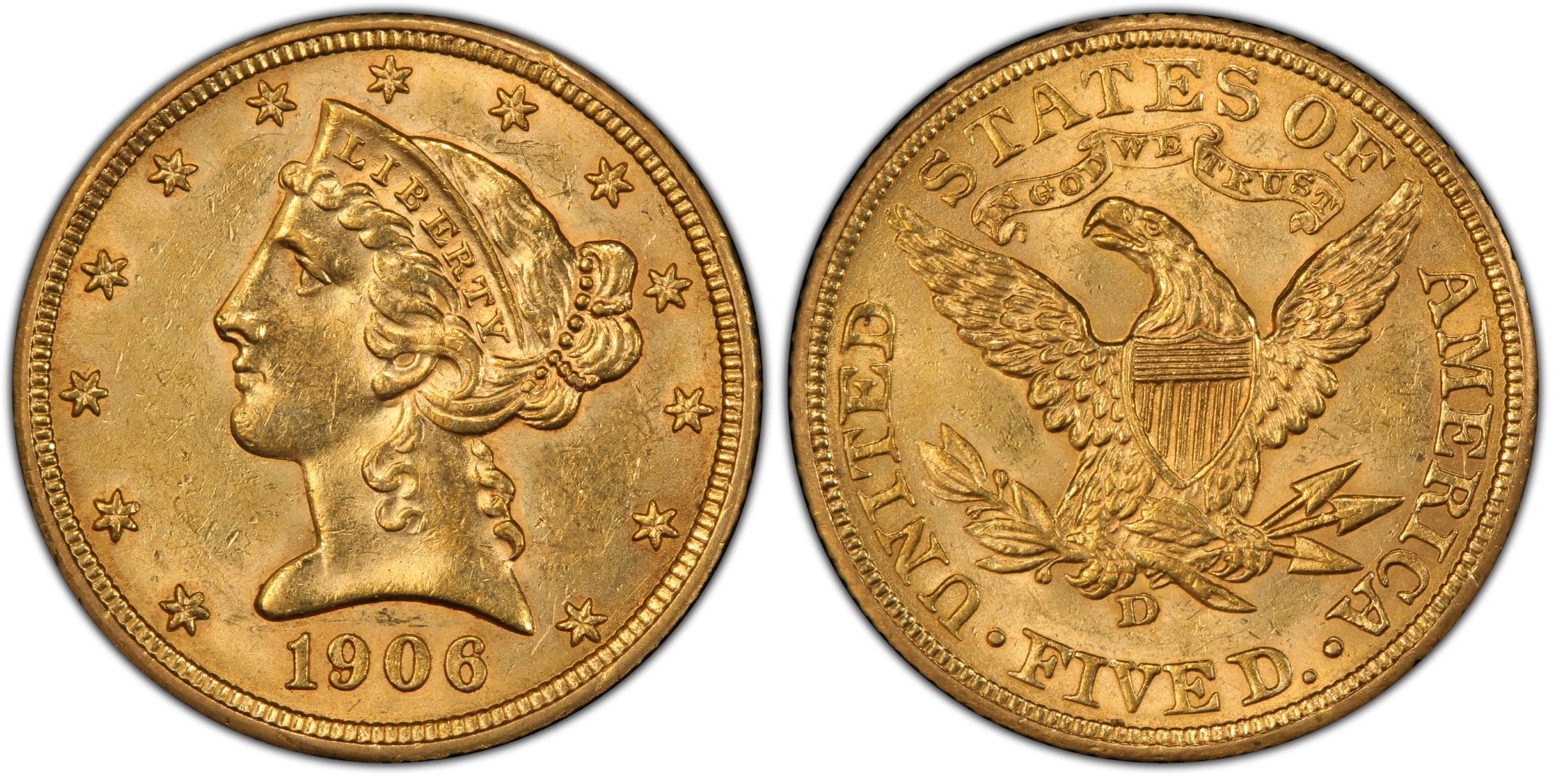 History of the Denver Mint
When the United States first began producing coins for circulation in 1793, just one mint facility was required. The young country's population was concentrated in the northeast and within close proximity of the Philadelphia Mint. However, as the country grew and precious metal discoveries were made, a need developed for branch mints.

By the 1830s, the U.S. government had expanded from just one mint to four by opening new branch mints in Charlotte, NC; Dahlonega, GA and New Orleans, LA. The trend would continue and two more branch mints were opened later in the century. The much-needed San Francisco location opened in 1854 at the peak of the California Gold Rush. Then, as gold and silver mines popped up in Nevada, a facility was opened in Carson City. A basic theme developed: wherever there was a large population and mining activity, a mint was opened.

However, there was one unusual exception to this rule: the Colorado Gold Rush. Gold was first discovered in Pike's Peak County in 1858 and extraction continued well into the 1860s. Rather than open an official mint, Congress authorized a Denver-based U.S. Assay Office in 1862. This facility was available to test the purity of gold and silver, but it did not issue coinage. The office simply accepted raw gold and nuggets, melted them down, declared their purity, and returned the metal in the form of ingots.

There is some debate as to why the Federal Government decided to postpone opening a full-fledged mint in Denver. The most likely explanation is the Colorado Gold Rush was expected to fizzle out. For example, in Dahlonega and Charlotte, both mints closed in 1861 after many years of meager output. Even the California Gold Rush was fading by the 1860s. Another theory is the local population did not need coinage and there were no nearby cities to send the currency.

Nonetheless, in 1896, the government decided to convert the Denver Assay Office into a working mint. By this point, the city of Denver had become an established and prosperous city. It was no longer at risk of becoming another ghost town once the gold veins ran dry. It was connected to the transcontinental railroad, became an active transport hub in the west, and had developed a strong manufacturing base.

Rather than use the former Assay Office building, the decision was made to construct a new structure for the Denver Mint. The land was acquired in 1896, but the building was not functional until 1904. After further delays in setting up the minting equipment, the facility became fully operational in 1906. The new mint hit the ground running by releasing Dimes, Quarters, Half Dollars, Half Eagles, Eagles and Double Eagles in its first year.

However, midway through 1907, mints nationwide switched from the Liberty Head to the Saint Gaudens design. This means that Liberty Half Eagles, Eagles and Double Eagles from the Denver mint exist in only 2 dates. Talk about rarity!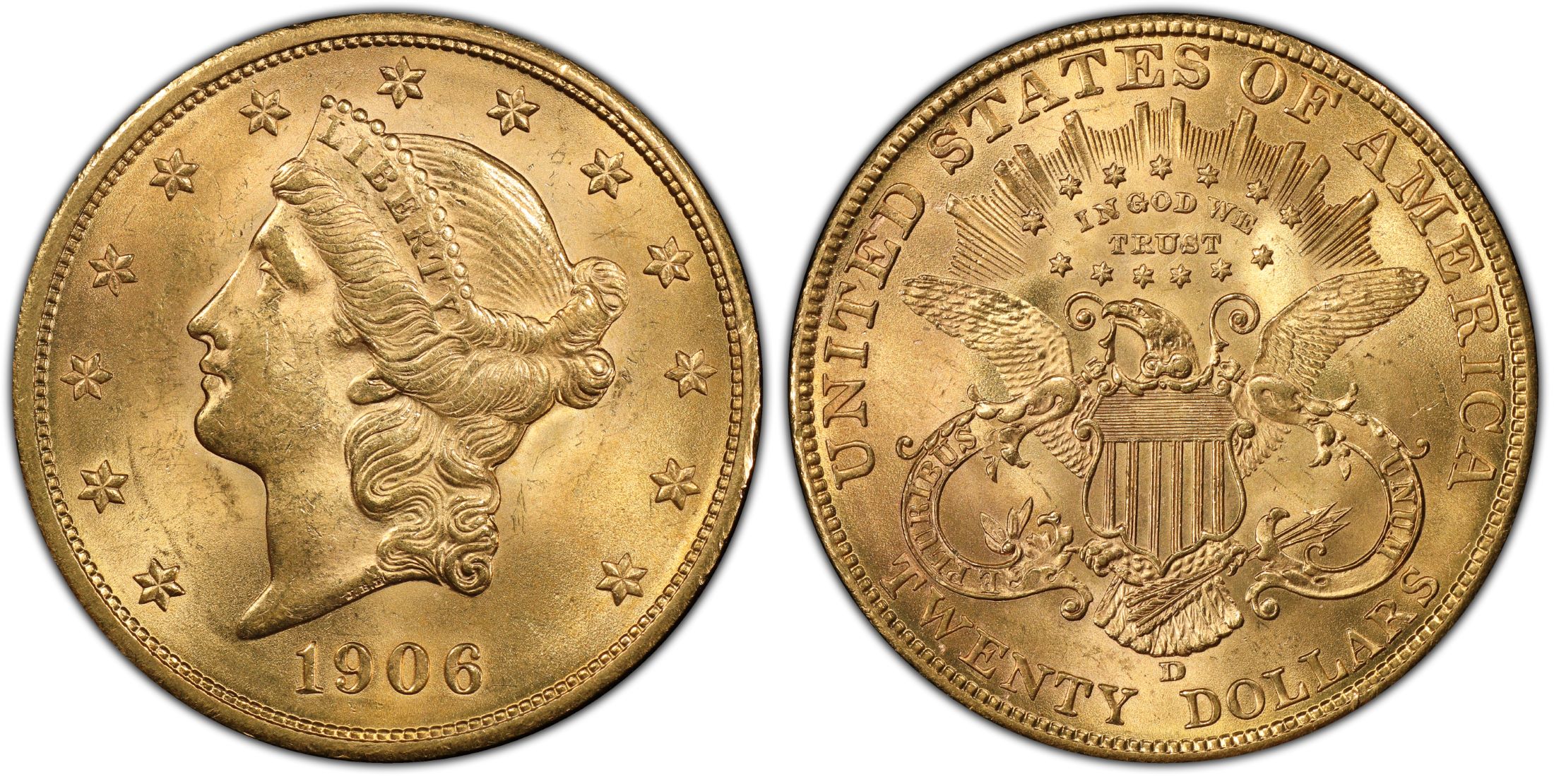 The Denver Mint Today
Today, the Denver Mint is now the single largest producer of coins in the world – producing 8 billion coins a year. Of the four active United States Mints (the others being Philadelphia, West Point and San Francisco), the Denver location produces the greatest quantity of circulating coinage. If you live in the Western half of the United States, there's an excellent chance your pocket change displays the "D" mintmark indicating its Denver origin.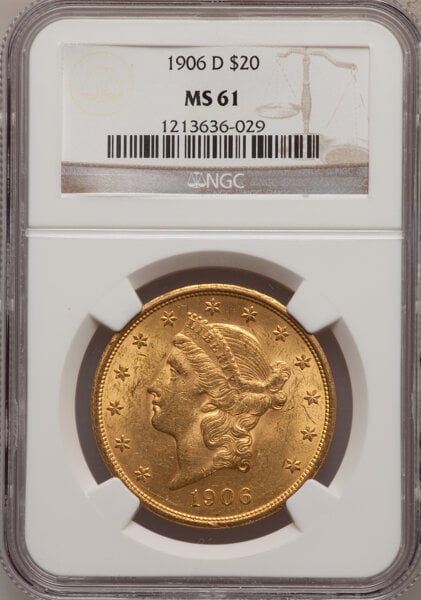 While modern Denver coinage is extremely common, its first gold coins are quite the opposite. 1906-D gold coins are both extremely scarce and numismatically significant as the first year of issue. Not only are 1906-D gold pieces rare and desirable, but at today's price levels, they also represent outstanding value.

The 1906-D $5 Half Eagle is approximately 5-10 times scarcer than the most common issue in the series. It is a challenging date to find in all grades and is much rarer than its price point would suggest. This is especially true in Uncirculated grades. Circulated examples are seen from time to time, but Mint State specimens are very difficult to locate.

Similarly, the 1906-D $10 Eagle is significantly less available than the "generic" date in the series. Based on PCGS/NGC census data, the 1906-D $10 is almost ten times rarer than the common 1894 issue. Much like its $5 Half Eagle cousin, the 1906-D $10 is not easy to find. Circulated pieces are encountered from time to time, but locating coins in MS60 or better can be quite a task.

Of the three 1906-D gold coins, the Double Eagle appears to be the toughest – and this is backed up by NGC population data. Whereas the 1904 $20 has an NGC population of over 237k pieces, just 1916 (!) of the 1906-D have been certified in all grades! It's safe to say that the 1906-D $20 is 100x scarcer than the 1904, if not more.

Despite the rarity and numismatic desirability of these three issues, they don't trade for significantly more than the common dates prices. For a modest premium over the generic cost, you can own one of the very first Denver Mint $5, $10, and $20 gold pieces in Uncirculated grade. This is an unbeatable combination of rarity, numismatic significance and value.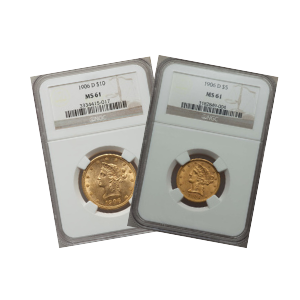 Today's Offer
We have secured a small quantity of 1906-D $5, $10, and $20 gold coins that are graded Uncirculated MS61 by PCGS or NGC. Despite their rarity and historic appeal, they are still available at reasonable price levels.

Option 1: Two-coin 1906-D $5 Half Eagle and 1906-D $10 Eagle sets

These contain both the 1906-D $5 and 1906-D $10 graded Uncirculated by PCGS or NGC.

Just four sets available at $2,119 per set with free shipping.*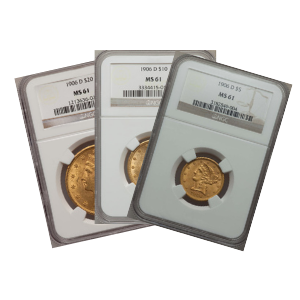 Option 2: Three-coin 1906-D $5 Half Eagle, 1906-D $10 Eagle, and 1906-D $20 Double Eagles sets

These contain all three 1906-D gold coins ($5, $10, and $20) graded Uncirculated (MS60+) by PCGS or NGC.

Just four sets available at $5,059 per set with free shipping.*


As evidenced by the smaller quantities, these are NOT easy to find and rarely appear on the market. Vintage U.S. gold sets tend to be our clients' favorite items, so we predict these eight sets will not last long. If you're looking to add something special to your classic gold collection, be sure to act quickly and reserve your First Year of Issue 1906-D gold sets!

Because the quantity is extremely limited, these coins will not last long. Take advantage of this special offer NOW by calling us at 800-831-0007, or by email at infoasi@assetstrategies.com.
*Prices subject to change based on market fluctuation and product availability. Prices reflected are for cash, check, or bank wire. Free shipping, handling, and insurance are available for all quantities ordered. Offer expires Friday, October 9, 2020, or while supplies last.