Small Coin with Big Upside
The $2.50 Indian head quarter eagle is a small coin that represents a fascinating and desirable combination of visual appeal, historical significance, set-building ability, and rarity in particular grades.

We encourage you to take a special look at this offer.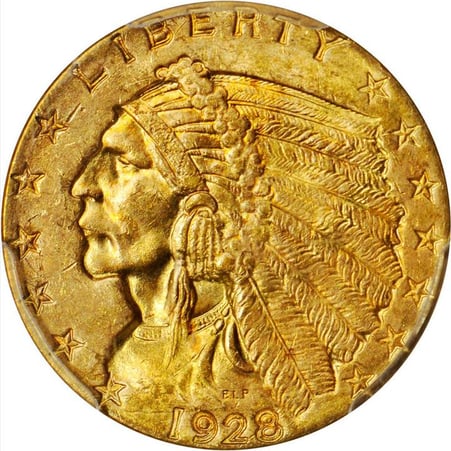 History
The $2.50 quarter eagle was one of the first of three gold denominations introduced, along with the $5 half eagle and $10 eagle. The first year of production was 1796, when only 1,395 pieces were struck. Mintages remained paltry over the following decade or so — and then in 1809 the denomination was put on hiatus altogether. The quarter eagle was brought back in 1821, but the quantities released were still anemic at best. On average, just a few thousand pieces were struck each year. By comparison, the Philadelphia Mint struck 5-10 times as many $5 half eagles.

By the mid-1830s, quarter eagle production started to increase. Thanks to inflation, $2.50 no longer represented a huge amount of money to the average American, and there was no paper money to handle larger transactions. Not until 1865 did the United States issue $2 and $5 notes; in the 1830's, such amounts most likely had to be handled with gold coins only. Furthermore, silver dollars had not been produced in 30 years, so the $2.50 quarter eagle filled the 'sweet spot' between the half-dollar and the $5 half eagle.

Remarkably, the $2.50 quarter eagle was produced continuously from 1834 through 1907, without interruption. This is a testament to how heavily the coin was used in everyday commerce. While the $5, $10 and $20 coins were often used for interbank transfers, the $2.50 quarter eagle was more likely to be used by the average American. Even more remarkable is, the coin did not undergo a single design change from 1840 through 1907—a record for any United States coin.

In 1907, Theodore Roosevelt demanded America's gold coinage be redesigned. The $2.50 gold piece was the poster child for why Roosevelt issued this command; after 65+ years of monotony, a refresh was badly needed. While one could argue the $2.50 was most in need of change, it was actually the last of the four gold denominations to be transformed. The U.S. Mint overhauled the $10 and $20 coins first in 1907, and then tackled the two smaller denominations in 1908.

The new 1907 $10 and $20 coins required a tremendous amount of adjustment and revision. Both coins went through a number of prototypes, trial runs and failed design adaptations. We can only assume by 1908, the U.S. Mint staff was exhausted and badly wanted a simpler redesign process. Once Bela Lyon Pratt's $5 Indian motif was perfected for production, it was decided the same design would appear on the $2.5 gold piece.

Pratt chose a unique and innovative design approach. Unlike any other United States coin, the $2.50 and $5 Indian gold pieces have an incused format. That is, the details are sunken, rather than raised. The result is a unique and highly attractive visual effect.

Much to their relief, all the Mint had to do was adjust the size. The beautiful incused $5 Indian design, while innovative and unique, did not require much 'tweaking' for the quarter eagle.

Like the $5 Indian, the $2.50 Indian was struck continuously from 1908-1915. With the advent of World War I however, production halted and would not return until 1925. The $2.50 Indian was then phased out in 1929 with the onset of the Great Depression. What little gold came into the U.S. Mint in the early 1930s was converted into $10 and $20 coins; the smaller denominations were completely ignored.

Finally, all circulating United States gold coin production ended permanently in 1933 with Executive Order 6102. This directive, signed by Franklin Roosevelt, forbid the possession of gold coins or bullion in the United States.

FDR's order resulted in enormous quantities of gold coins being melted. Most Americans turned in whatever savings they had in gold for paper money or silver dollars. Foreign banks (which were exempt from this order) were holding on to significant quantities of larger-denominated gold coins; most quarter eagles were held by ordinary citizens. As a result, comparatively few quarter eagles survived the 1933 order compared to the $5, $10 and $20 denominations.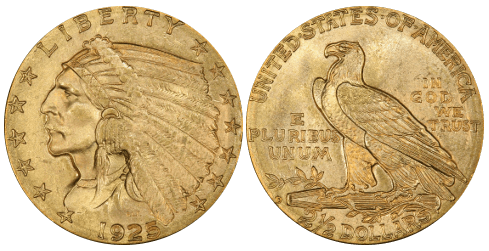 Completing a Set
In numismatics, there is a strong tradition of set-building. Collectors often have the goal of assembling interesting, themed and relevant groups of coins such as buying one of every date, design type and mintmark. The basic concept is to establish a collecting objective and work towards completing it. Owning a complete set increases the value of coins compared to owning individual coins.

The $2.50 Indian is the only United States gold series that can be affordably completed. This is why the $2.50 Indian is one of the most popular coins in all of numismatics. Every other United States gold coinage type has at least one major rarity beyond the average collector's budget. As a case in point, the $5 Indian series has two "stopper" dates that cost at least $10,000 in any grade: the 1909-O and 1929. Consequently, only advanced numismatists attempt to build complete sets of $5 Indians; otherwise collectors usually buy them as type coins.

Why the MS65 $2.50 Indian?
Like its larger cousins, the $2.50 Indian is a beautiful, fascinating coin, trading near historic lows. Due to the unique incuse striking method, it is exceedingly difficult to find $2.50 Indians that grade past MS64. The coin is more vulnerable to imperfections because of the deeper recesses. These MS65s are perfectly struck with complete design detail, possess strong luster, display clean surfaces and have outstanding eye appeal. Upon inspection, you can see why they reached the MS65 mark for quality.

While underpriced in all uncirculated grades, MS65 specimens offer the most power potential.

Furthermore, MS65 is the highest affordable grade; collectors can expect to pay well over $11,000 for $2.50 Indians graded MS66. With so much 'room to run' compared to its all-time high—and compared to the value of an MS66—the MS65 $2.50 Indian is an outstanding value.

This is not a coin available in large quantities; a surge of collector interest would have a dramatic impact on prices. This is truly a special Spotlight offer to kick off the new year.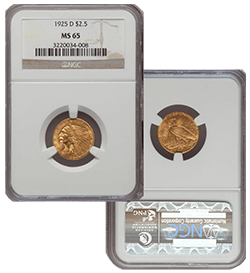 Today's Offer
After peaking at over $8,500 in 2005, MS65 coins can be had for less than $2,000 today. The coins in today's offer are from a single collector who had been accumulating for years, and it is unusual to have even such a limited quantity available.
Claim your $2.50 Indian Quarter Eagle in MS65 for just $1,799 each.
Just $1,769 each when you buy 5 or more!
If ever there was a time to add a spotlight coin to your portfolio, this could be it. Please call us today at 800-831-0007 or email us to purchase your 'right coin at the right price.'