Undeniable Rarity in 20th Century American Gold
From 1907 through 1916, every United States circulating coin underwent a significant design change. After decades of monotony, each denomination was completely overhauled by some of America's most talented and famous artists. This represented a major break from tradition. For most of the 19th century, American coins were designed by U.S. Mint staff engravers. Furthermore, multiple denominations often shared the same motif. Five different silver coins, for example, were virtually identical in appearance with the only difference being size.

This practice came to a screeching halt when Theodore Roosevelt became president. He felt America's coinage should be beautiful, majestic and creative in appearance. This is what spurred the hiring of renowned sculptor Augustus Saint-Gaudens to revamp the $10 and $20 gold pieces. Although Saint-Gaudens passed away before he could tackle the rest of the U.S. gold series, Roosevelt remained committed to the project.

Designing the $2.50 Quarter Eagle and $5 Indian Half Eagle
To maintain the spirit of Saint-Gaudens' work, Roosevelt commissioned one of his students to design the $2.50 Quarter Eagle and $5 Half Eagle. Bela Lyon Pratt, who had been mentored by Saint-Gaudens, began working on the two denominations in January 1908. By springtime of that year, Pratt submitted plaster models of the coins for Roosevelt's approval. The President was pleased and ordered the U.S. Mint to begin adopting the design for production.

Pratt's proposed version of the $5 Half Eagle was unlike any previous U.S. coin. The design details were incused, or sunken. This unique and innovative format had never been attempted on a circulating American coin. U.S. Mint officials were worried the coin would be difficult to strike, as it would be thinner than the Liberty Half Eagle design. Merchants were also concerned the coins would not stack properly or go through automatic counters.

There was even more controversy when the coins were released to the general public. Citizens were gravely concerned that dirt, grime and germs could become trapped in the coin's recesses. Although these fears were unfounded, one prominent numismatist actually complained directly to the President about the issue. He also called the male Indian on the obverse "emaciated" and believed the coins might be easy to counterfeit. Ultimately, however, most Americans were pleased with the new Half Eagle. In fact, their unusual design made them quite popular as gifts.

Rarity and Condition
The majority of $5 Indian Half Eagles were struck from 1908 through 1915.

Minted in San Francisco, the 1915-S is usually quite well struck, although some specimens show a little softness on the lower feathers of the headdress. This issue comes with two very different finishes, one very frosty with a touch of granularity, the other unusually satiny. The mintmark is usually weak and not very well defined but some specimens have a very sharp mintmark. Many examples show signs of die buckling or deterioration near the borders. Color is typically light to medium orange gold with a greenish tint (the frosty ones) or rich reddish gold (the satiny ones).

The 1915-S is one of the major rarities of the series, indeed of all 20th-century gold coins. This is a direct consequence of the coin's unusual format. Since the coin is flat and lacks a raised rim, it is especially susceptible to nicks and abrasions. Also, as mentioned earlier, the Mint had difficulty producing the $5 Indian with a complete strike. The incused design was very much a double-edged sword; it was highly attractive, but made the coin less durable and a challenge to produce.

This fact is clearly reflected in the population census. Out of an original low mintage of 164,000, it is estimated that just 2,600 total still exist across all grades for the 1915-S issue. Only about 16% of the surviving population are graded above MS60 and specimens in MS63 or better are incredibly few and far between. Most of the surviving coins are graded AU55, so today's gathering of 1915-S $5 Indian Half Eagle in AU58 is a rare find indeed.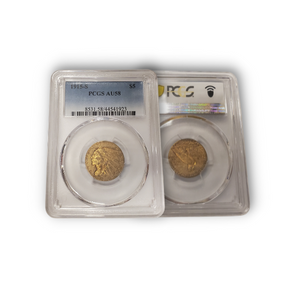 PCGS has just 343 graded in this issue and they typically retail for $2,250, yet we're able to offer an interesting grouping for less than $1,850 a piece!
Today's Offer
Take advantage of this chance to own one of the rarest U.S. gold coins at bargain prices. We have exactly 12 of these coins left; be sure to reserve your coins now while our limited quantity remains!
Your cost per coin is $1,849 each*
Don't delay. Please call us today at 800-831-0007 or email us to purchase your 1915-S $5 Indian Half Eagle in AU58.
*Prices subject to change based on market fluctuation and product availability. Prices reflected are for cash, check, or bank wire. Free shipping, handling, and insurance are available for all quantities ordered. Grading service selection is random and depends on availability. Offer expires Friday, February 4, 2022, or while supplies last.