Small Gold Coin, Even Smaller Availability!
Having dealt in rare United States gold coins for decades, we've had the privilege of handling countless major rarities and distinctive collections. Many significant, fascinating and unusual specimens have passed through our hands. However, we cannot remember a more intriguing group of coins than the ones we have just come across.

This unique group of 'No Motto' $5 Liberty Half Eagles represents one of the most special numismatic groups we have ever encountered. Yet, in terms of the price per coin, they are far from the most expensive. These coins boast an incredible story, outstanding quality, and a shockingly low price point.

There are many reasons why collectors covet the 1853 'No Motto' $5 Liberty Half Eagle today!
Extreme Rarity
At first glance, 'No Motto' coins may look like ordinary $5 'Libs,' albeit minus the motto 'In God We Trust' on the reverse. The inscription was added immediately after the Civil War in 1866. The national sentiment had become more religious after the war, and this was reflected on our country's money. While generally similar in appearance, 'No Motto' $5 Libs are a world apart from their 'With Motto' brethren in terms of rarity. In simple terms, 'No Motto' coins are easily 10-20 times rarer, but their price would lead you to believe otherwise.

According to the NGC Census, over 211,000 $5 Liberty Half Eagles have been graded in total. Of those, just over 19,000 were of the 'No Motto' type. This suggests that 'No Motto' coins are 11 times rarer. In actuality, the difference is much greater. Tremendous quantities of common/worn 'With Motto' coins have never been submitted, as their value does not warrant third-party grading. By comparison, all 'No Motto' $5 Libs are collector items regardless of grade – and almost always trade in certified form. If the NGC census included all coins in existence, including low-premium 'With Mottos,' the ratio might be closer to 20:1 or 30:1!

Going even further, for this date, there are only 132 total graded by PCGS in the world! We have just 21 remaining from the 50 we offered to our numismatic list yesterday and we estimate the rest will go just as quick!

Historical Significance
The 'No Motto' coins also carry an added level of intrigue and historical significance. These coins were struck in the 1850s – a period that included the California Gold Rush, the addition of numerous states, and the Compromise of 1850. This pre-Civil War era was a turbulent period for the relatively young United States; the country had not yet secured its place as a leader on the world stage.

Like most pre-Civil War coins, 'No Motto' $5 Liberties were also melted extensively. Precious metals prices skyrocketed during the war – and the melt value of U.S. gold coins exceeded their face value. Since $5 Half Eagles were worth more 'dead' as bullion, than alive as legal tender, countless coins were sent to the melting pot. The few coins that remained were then subjected to additional melting in 1933 when Franklin D. Roosevelt issued his gold ownership ban and redemption order.

Picture-Perfect Appearance
As if their rarity and alluring backstory weren't enough, these 'No Motto' $5 Liberties feature picture-perfect appearances. The coins display moderate wear with just minor circulation. They may be graded PCGS XF45, but they really have the sharpness of AU coins. The surfaces are smooth and devoid of the heavy gouges typically seen on 'No Motto' gold.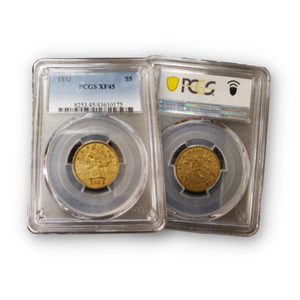 Perhaps the best aspect of each coin's appearance is its original patina – the kind that only develops from sitting in place for many, many years. One could not ask for better quality or eye appeal for a coin of this age. When you see these coins in person, you'll know what we mean when we call them 'Gem XF.'
Today's Offer
Today's 1853 "No Motto" $5 Liberty Half Eagle in PCGS XF45 is the perfect complement to your collection.

Your cost per coin is $749 each or pay just $719 each when you purchase 5 or more!

Don't delay. Please call us today at 800-831-0007 or email us to purchase one or more 1853 "No Motto" $5 Liberties.
*Prices subject to change based on market fluctuation and product availability. Prices reflected are for cash, check, or bank wire. Free shipping, handling, and insurance are available for all quantities ordered. Grading service selection is random and depends on availability. Offer expires Friday, January 7, 2022, or while supplies last.