Gold Stagnant, Time to Stock Up
Gold prices remain stagnant this week as investors wait to see whether the Federal Reserve will pause, pivot, or continue raising rates based on recent inflation data.
This upcoming weekend's annual gathering of central bankers will be closely watched for indications on whether the Fed plans to end its cycle of interest rate increases. Higher interest rates are typically bearish for gold, so an end or a pause to rate hikes would give precious metals a boost.
However, officials have continued to express concern about the pace of inflation and said that more rate hikes could be necessary unless things change.
Gold spot prices rose 4.1% in July, after dipping in both May and June, following a strong first half of the year. Historically, summer has been a slower season for the precious metals industry, but as summer comes to an end, so too does the opportunity to obtain gold and silver at lower prices. This may be the last time we see gold at this level in 2023, or even beyond...

It's not possible to say for certain what the reminder of 2023 has in store, but we know the proven power of precious metals as a hedge against inflation and economic volatility is more necessary now than ever. While the pace of inflation has slowed, it is still rising, meaning that it is still more expensive than this time last year to purchase consumer goods.
Today, we're able to offer sovereign 1 oz. gold coins at a favorable premium.
Give us a call at 1-800-831-0007 or email us to place your order today!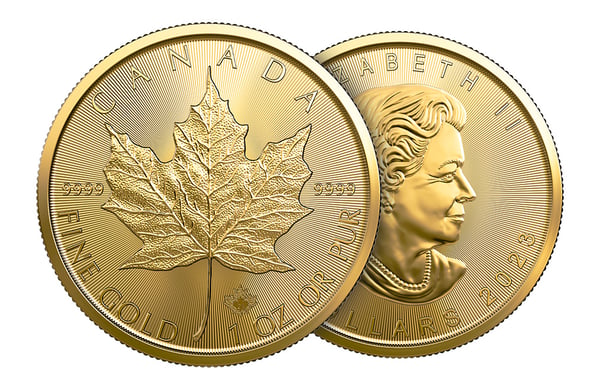 1 oz. Gold Maple Leaf Coins
As low as $79 over spot


*Prices subject to change based on market fluctuation and product availability. Prices reflected are for cash, check, or bank wire. Minimum order is 1 oz. gold. $89 over spot pricing available for purchases of 1-9 coins. $79 over spot pricing available for purchases of 10 coins or more. Free shipping, handling, and insurance are available for gold purchases of 10 oz. or more. Offer expires Friday, August 25, 2023, or while supplies last.