Can We Expect a Fall Rally for Silver?
Gold and silver are trading lower this week. It has been a rough August for silver, with spot prices falling 3%, then an additional 4% in the first two weeks respectively.
We're looking towards $22 an ounce as a key support point for silver, marking the potential bottom of this current dip. If and when silver rebounds, $26 should be the resistance point that silver spot prices need to remain steadily above in order to move forward in the next leg of the precious metals bull market. Analysts are still predicting that silver will reach $30 an ounce by the end of 2023.
Historically, summer has been a slower season for the precious metals industry, but as summer comes to an end, so too does the opportunity to obtain gold and silver at these lower prices.
The story of silver over the last few years has been an interesting one. Silver ended 2020 with 48% YOY gains… the highest gains of ANY major asset class that year, and then dropped in 2021 after an initial surge. In 2022, silver lingered low and rangebound until the end of the year, when it rose an additional 10% in December after increasing 14% in November, its biggest monthly gain since December 2020.
So far in 2023, silver retreated 4.2% in the first half of the year, then saw an 8.5% boost in July. So are these August lows just the consolidation period before a fall rally for silver?

The volatility in silver prices in the first half of 2023 can be largely attributed to the US monetary policy, which has been at odds with investor expectations and interests in the recent past. Yet, the industrial demand for silver is likely to remain high in the long-term, as more countries worldwide look towards clean and green technologies. Silver is a critical component in electronics, particularly in automotive and solar industries. Meanwhile, silver supply is at a record deficit, so prices should rise accordingly as demand continues to ramp up.

Only time will tell, but the opportunity for silver prices to increase by year's end is still high, making the current dip a valuable opportunity that investors should not pass up if they want to own silver.
Today, we're able to offer sovereign 1 oz. Silver American Eagles at favorable premiums to help you add silver to your portfolio at today's lower spot prices.
Give us a call at 1-800-831-0007 or email us to place your order today!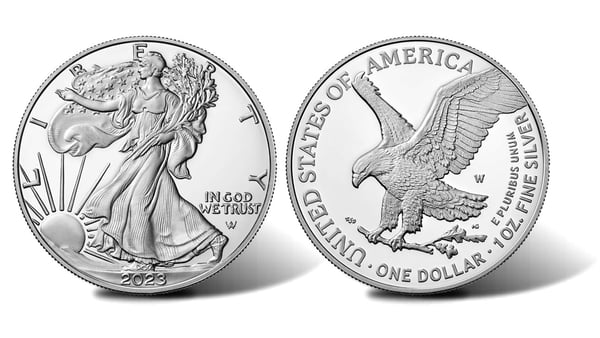 1 oz. 2023 Silver American Eagles
As low as $4.49 over spot


*Prices subject to change based on market fluctuation and product availability. Prices reflected are for cash, check, or bank wire. Minimum order is 100 oz. silver. Purchases of 100-499 coins available at $4.99 over spot per ounce, purchases of 500-1499 coins available at $4.79 over spot per ounce, and purchases of 1,500 coins or more available at $4.49 over spot per ounce. Free shipping, handling, and insurance are available for silver purchases of 500 oz. or more. Offer expires Friday, August 18, 2023, or while supplies last.