Hedge Against Economic Instability
Banking system woes continue to concern investors, boosting precious metals prices, with gold above $2,000 and silver reaching for the $26 mark.

You must act now if you want to minimize your risk against unforeseen market instability.

For that reason, right now may very well be one of the best times for you to buy gold and silver, with a major opportunity in silver. Silver is a great hedge against inflation and times of economic instability. Because of silver's versatility when it comes to investing, it can be used for both short-term and long-term investment strategies.

Generally, silver tends to be more volatile than gold, resulting in comparatively larger moves up and down when market forces are active. Silver advanced 3% in 2022, and is up even further in 2023, with many analysts predicting that it will touch $30 an ounce before the year's end. We're not even halfway through the year and silver is showing signs of real strength so far.

More importantly, silver is a much thinner market than gold. So, the same dollar has a bigger impact in the silver market than it does in the gold market.

It's not possible to say for certain what 2023 has in store, but we know the proven power of precious metals as a hedge against inflation and economic volatility will be more necessary now than ever.

Many analysts are speculating that this current bull market for precious metals will show gains that far eclipse the previous bull market highs of $50 an ounce for silver. Silver has a long way to run. In the last bull market, silver rose about 1,000% from it's lows.

To help you prepare your portfolio for 2023, we're offering 1 oz. sovereign silver coins at a relatively low premium!

Give us a call at 1-800-831-0007 or email us to place your order today!
---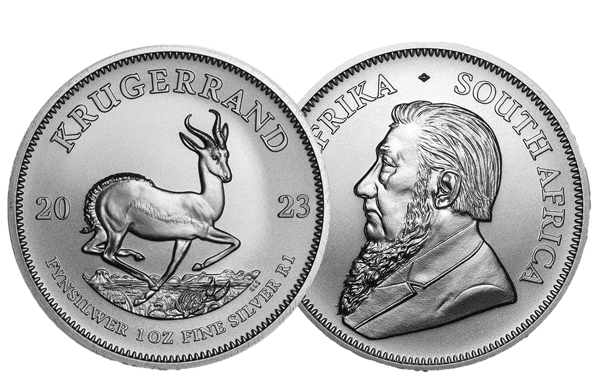 1 oz. Silver 2023 Krugerrand Coins
Just $3.99 over spot!
*Prices subject to change based on market fluctuation and product availability. Prices reflected are for cash, check, or bank wire. Minimum order is 100 oz. silver. Purchases of 500 oz. of silver or more will include free shipping, handling, and insurance. Offer expires Friday, May 12, 2023, or while supplies last.