Some Visibility on Divisible Gold
With gold near all-time highs and the window to buy gold at these price levels closing, it is becoming more challenging for investors to get in on the ground floor, especially those who are just beginning to accumulate gold and build a diverse portfolio.

Today, we have a special offer for those interested in and ready to own gold...

Divisibility is a sought after quality for many investors when it comes to selecting gold bullion products for their portfolio. While 1 oz. sovereign gold is where most investors start, perhaps you are looking for a lower threshold to start investing in gold, or you are buying a gift for a new collector.

Unfortunately, popular fractional coins such as the 1/10th oz. Gold American Eagle are currently experiencing premiums through the roof... as high as almost 50% over melt! There's also currently an overall lack of availability in fractional coins. However, we were able to secure 50 or 100 gram Valcambi Combibars at a much lower premium for a limited time!

Combibars are gold bars manufactured with accurate constructed predetermined breaking points and therefore can be separated easily without any loss of material should you need to sell a portion.

Give us a call at 1-800-831-0007 or email us to place your order today!
---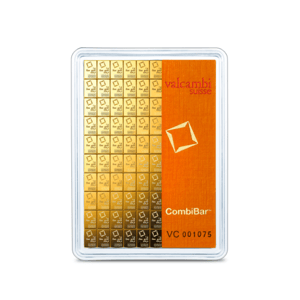 Receive a FREE 1 oz Silver Eagle
per 50g Gold CombiBar Purchased!
*Prices subject to change based on market fluctuation and product availability. Prices reflected are for cash, check, or bank wire. Minimum order is one 50 gram gold CombiBar. A free 1 oz. Silver American Eagle will be included for every 50g CombiBar purchased. CombiBars available in 50g and 100g increments. Purchases equaling 10 oz. gold or more will include free shipping, handling, and insurance. Offer expires Friday, May 19, 2023, or while supplies last.