Gold Holding Above $1,900
Gold saw gains of about 3% last week as demand for Treasury bonds and the U.S. dollar weakened. Precious metals prices surged last week on the conflict between Israel and Hamas, as safe haven investors sought a hedge against the global uncertainty.
We expect the spot price boost incited by the crisis in Israel and Palestine will be relatively short-lived. Geopolitical rallies in gold don't tend to last long; safe haven buying only lasted about two months after the initial Russian invasion of Ukraine.

The long-term outlook for gold will be more severely impacted by news on the economy, as investors look for signals on the Federal Reserve's next moves on monetary policy.

The Fed has raised rates by 5.25 percentage points since March 2022. High rates are bearish for gold, making it less attractive as an alternate investment. However, the central bank held its benchmark interest rate at 5.25% to 5.50% in September. Most are betting that the Fed will keep its federal funds rate unchanged in November and December. A pause or a pivot in the interest rate hike cycle will be bullish for gold and potentially kickstart the next leg of the precious metals bull market.
It appears that the Federal Reserve does not have much room to tighten monetary policy, despite inflation remaining a sticky issue.
With that in mind, for a limited time, we're offering Gold American Eagles with the same service you've come to trust, at a price that can't be beat! Give us a call at 1-800-831-0007 or email us to place your order on 1 oz. Gold American Eagles today!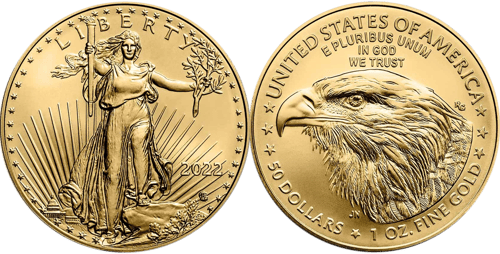 Backdated 1 oz. Gold American Eagles
Just $99 over spot!


*Prices subject to change based on market fluctuation and product availability. Prices reflected are for cash, check, or bank wire. Minimum order is 1 oz. gold. Free shipping, handling, and insurance are available for gold purchases of 10 oz. or more. Offer expires Friday, October 20, 2023, or while supplies last.