Ready, Steady, Gold?
Gold continues to hold steady near the $2,000 mark, lingering in a tight range less than $100 an ounce from its all time high. The U.S. dollar also appears to be in a holding pattern. The markets are waiting on baited breath for the next Federal Reserve decision...

The Fed is widely expected to boost rates again next week, but economists are increasingly forecasting that the peak of the rate-hike cycle may be approaching. A pause or an end to the rate hikes would be considered bullish for gold.

The Fed has raised rates by 25 basis points twice this year following rate hikes of 50 basis points in December and 75 basis points each in June, July, September and November. But the Fed's next moves all depend on the latest inflation data and labor market statistics, as key reports are due out this week.

In the meantime, the current precious metals bull market is well under way and gold is already far from its bear market lows of $1,055. With gold at the strongest price levels in history and set to continue this positive trend, any investors still on the fence, need to take action if they want to buy gold at anywhere near this price.

Based on gold's strong performance so far in 2023, an increase of 8.8% in the first quarter, analysts have even begun raising their forecasts for the average gold price this year, with predictions averaging around $2,400 an ounce.

To help you take advantage of the building momentum in gold in 2023, we're offering 1 oz. sovereign gold coins at a relatively low premium! These 2023 Gold Britannia coins are the first year of issue with the image of King Charles III, whose official coronation is scheduled to take place in May.

Give us a call at 1-800-831-0007 or email us to place your order today!
---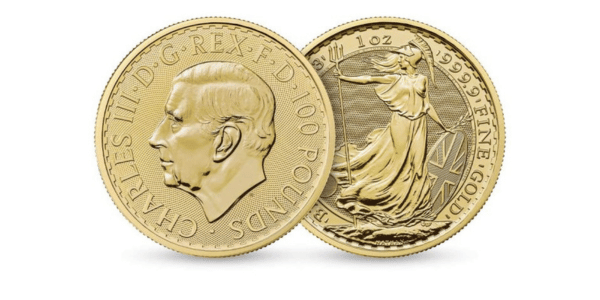 1 oz. Gold 2023 Britannia Coins
Just $99 over spot!
*Prices subject to change based on market fluctuation and product availability. Prices reflected are for cash, check, or bank wire. Minimum order is 1 oz. gold. Purchases of 10 oz. of gold or more will include free shipping, handling, and insurance. Offer expires Friday, April 28, 2023, or while supplies last.