A Real Opportunity in Silver
Silver, as well as gold, has taken a bit of a dip recently, after touching the highest levels seen in over a year at the beginning of May.
Right now, there's a major opportunity in silver. Many analysts are predicting that it will touch $30 an ounce before the year's end. It rose 3% in 2022 and in 2023, we're expecting more. We're not even halfway through the year and silver is showing signs of real strength so far. In April, silver saw gains of 4.4% after increasing 15% in March. This current dip should be treated as a temporary short-term fluctuation before silver spot prices continue to stairstep their way upwards, in lockstep with gold, as this precious metals bull market continues.
The fundamentals for safe haven demand are still intact as global tensions and economic volatility continue. Right now, the danger of a $31.4 trillion debt default has attracted more investors to gold and silver. Of course, the persistent inflation, recent banking collapses, and continued impact of the Russian invasion of Ukraine have also increased demand for tangible, safe haven assets.
Many analysts are speculating that this current bull market for precious metals will show gains that far eclipse the previous bull market highs of $50 an ounce for silver. In the last bull market, silver rose about 1,000% from it's lows.
The current Gold-Silver Ratio (the number of ounces of silver it takes to purchase one ounce of gold) seemed to finally start coming down, as gold and silver hit recent highs in early May. However, with current levels back above 80, this key metric indicates that both gold and silver are currently undervalued. Spot prices can still go much higher than even previous bull market highs over the next few years before the long-term trend resets and the ratio bottoms out around 30-50.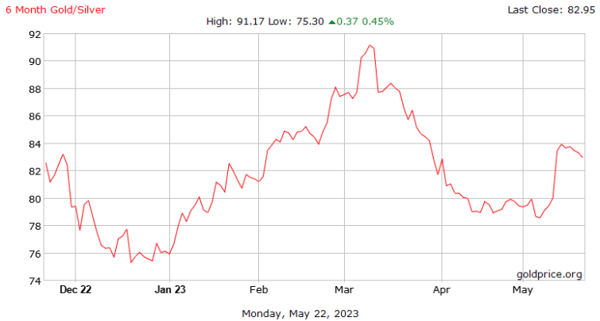 Silver is a great hedge against inflation and times of economic instability. Because of silver's versatility when it comes to investing, it can be used for both short-term and long-term investment strategies.

More importantly, silver is a much thinner market than gold. So, the same dollar has a bigger impact in the silver market than it does in the gold market. Also, silver tends to be more volatile than gold, resulting in comparatively larger moves up and down when market forces are active.

It's not possible to say for certain what 2023 has in store, but we know the proven power of precious metals as a hedge against inflation and economic volatility will be more necessary now than ever. For that reason, we're offering 1 oz. sovereign silver coins at a relatively low premium. Give us a call at 1-800-831-0007 or email us to place your order today!
---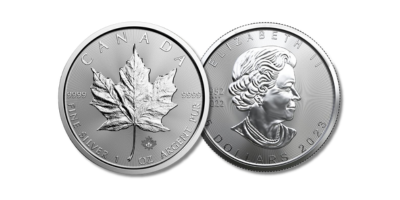 2023 1 oz. Silver Canadian Maple Leaf Coins
Just $4.99 over spot
*Prices subject to change based on market fluctuation and product availability. Prices reflected are for cash, check, or bank wire. Minimum order is 100 oz. silver. Free shipping, handling, and insurance are available for silver purchases of 500 oz. or more. Offer expires Friday, May 26, 2023, or while supplies last.