Why Central Banks Bought Gold in Record Numbers
For the past thirteen years, Central Banks have been net buyers of gold. In fact, last year, Central bank buying was at an all-time high. We had not seen buying numbers even close to 2022 totals since the 1950's and 1960's. Why are central banks buying so much gold and why is that important?

In the most recent World Gold Council Survey of Central Banks, Central Banks noted two primary reasons for buying more gold.

1. Gold's performance during times of crisis.

2. Gold's role as a long-term store of value.

None of this should be a surprise in an environment riddled with geopolitical uncertainty, persistent inflation, fears of recession, and banking instability. The weaponization of the US dollar has driven both enemies and friends to reduce the number of US dollars they hold in currency reserves. In the place of US dollar reserves, Central Banks are opting for increased exposure to gold and other foreign currencies…such as the Chinese yuan.

Why? Simple. Either because they were cut-off from the world's banking system (enemies) or because they fear they might be cut-off from the world's banking system in the future (friends), the Central Bankers are diversifying out of our mismanaged dollar. In a nutshell, Central Banks are buying gold for all the reasons we buy gold personally. It is first and foremost their wealth insurance…

"Gold as wealth insurance is simply a store of purchasing power, with high liquidity, for a potential financial crisis you hope to never have."

That's why Central Banks bought gold in record numbers last year. That's why Central Banks bought gold in record numbers in the first quarter of 2023. That's why you should be following their lead.

Knowing what they know about the state of the world's financial system, and given they are buying gold in such a robust manner, don't you think you should be buying as well? In 2023, there is no better way to Keep What's Yours than to buy gold here and now.
For a limited time, we're making it easier than ever to add gold, silver, platinum, and palladium to your portfolio today Give us a call at 1-800-831-0007 or email us to place your order today!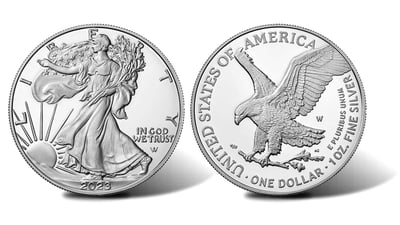 Free 1 oz. Silver Eagle and FREE SHIPPING
on any order of $5,000 or more!
*Prices subject to change based on market fluctuation and product availability. Prices reflected are for cash, check, or bank wire. Receive one free 1 oz. Silver American Eagle and free shipping, handling, and insurance on any purchase totaling $5,000.00 or more. Minimum order is 1 oz. gold, 1 oz. platinum, 1 oz. palladium, or 100 oz. silver. Offer expires Friday, November 10, 2023, or while supplies last.