End of Summer May Mark End of Trading Range
Powell indicated on Friday that the Federal reserve is ready to raise interest rates again in its quest for 2% inflation, but that the Fed may hold rates steady next month.
In response, gold and silver spot prices have risen mildly.

Key inflation, jobs and consumer confidence reports due out at the end of this week may drive the Fed's rate decision in September. Higher interest rates are typically bearish for gold, so an end or a pause to rate hikes would give precious metals a boost. The Fed pays close attention to the labor market in particular to determine whether its rate hikes are having a detrimental effect on the economy.

It's not possible to say for certain what the remainder of 2023 has in store, but we know the proven power of precious metals as a hedge against inflation and economic volatility is more necessary now than ever. While the pace of inflation has slowed, it is still rising, meaning that it is still more expensive than this time last year to purchase consumer goods.
Silver is down 1.6% this month after advancing 8.5% in July and dropping 2.4% in June. It retreated 4.2% in the first half of the year after rising 3% in 2022. This week also marks the unofficial end of summer for the U.S. and the "summer doldrums" for the precious metals markets. After the upcoming Labor Day holiday weekend, we should see markets become a lot more active, so the time to buy gold and silver within the current trading range is likely coming to a close.
Today, we're able to offer silver rounds at at a very favorable premium to assist with your goals.
Give us a call at 1-800-831-0007 or email us to place your order today!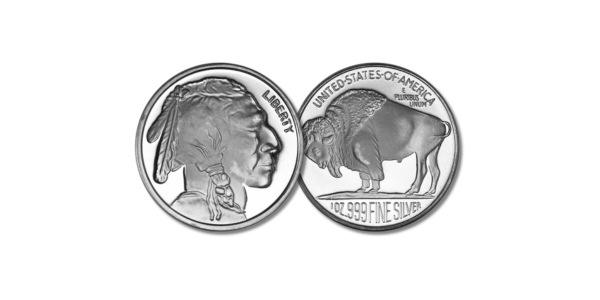 1 oz. Silver Buffalo Rounds
Just $1.99 over spot


*Prices subject to change based on market fluctuation and product availability. Prices reflected are for cash, check, or bank wire. Minimum order is 100 oz. silver. Free shipping, handling, and insurance are available for silver purchases of 500 oz. or more. Offer expires Friday, Sept 1, 2023, or while supplies last.